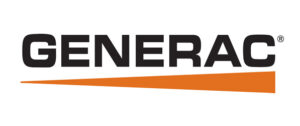 Generac is the number one consumer brand for home generators. It's been a great performing generator for many years and is a solid choice for any home generator or commercial need up to 150 kW. Generac Power Systems manufactures and designs standby backup generators for residential, commercial, and industrial backup power applications. The company was founded in 1959 and revolutionized the backup generator market by manufacturing affordable generators for home and business. Generac generators assembled in the USA. Generac is known as a reliable, dependable and trustworthy company.
Generac backup generators were first to market with engines designed to power generators. Over the years they improved efficiency of their home and business generators to promote heat dissipation for longer engine life, reduce oil consumption and engine wear. Generac uses fully pressurized lubrication system keeps critical bearings and other parts immersed in oil at all angles of operation to promote longer life of the mechanical systems. Low oil shutdown prevents engine damage, and the dual element air filter extends service intervals while protecting the engine from the elements.
Generac also manufactures Automatic Transfer Switches (ATS) designed with state of the art features ease Generac standby generator installation and operation, and can manage power for an entire home or a few essential circuits. Their manual transfer switches safely connect a home's electrical system to a Generac portable generator.
Colonial Generators is an Authorized Generac Dealer. We sell online and direct to consumer via our retail and distributor network. We offer free shipping along with the best prices on products including Generac generators, transfer switches, power washers, and power inverters.
Search All Generac Generators
Search All Generac Transfer Switches