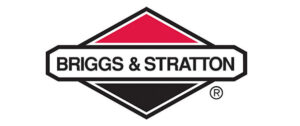 Briggs & Stratton Corporation developed the first aluminum in gasoline engine for power generators during World War II.  With over 100 years of experience manufacturing engines, Briggs & Stratton is renowned worldwide for their engines and products that use their engines, including standby generators and portable generators for commercial and residential applications. Units range from 6kW to 62 kW with both air cooled and liquid cooled generators.
Briggs & Stratton engines and products are found in four out of five homes throughout the country. As a leading designer and manufacturer of standby generator systems, they and have garnered the trust of professionals across the globe and offer world-class support with thousands of dealers.Briggs partnered with Stratton in 1908 to manufacture gasoline engines. Their partnership grew into the Briggs & Stratton company which manufactures more than 10 million engines each year.  Their consumer power experience has made Briggs & Stratton North America's number one manufacturer of portable generators with models ranging from quiet and fuel efficient generators for demanding on the job or at home power needs.  Briggs & Stratton standby generators range from 8kW to 62kW with both air cooled and liquid cooled models.
The Briggs & Stratton's company vision—The Power Within—is shared by company leaders and employees to encompass the values of their customers: a can-do spirit, satisfaction from a job well done, and knowledge passed from one generation to the next. Briggs & Stratton delivers excellent customer service, superior engines and is customer centric.
Colonial Generators is a an authorized Briggs & Stratton Dealer of standby emergency backup generators and Automatic Transfer Switches (ATS), and accessories. We sell, service, install and monitor Briggs & Stratton generators.  We offer best prices and free shipping to our customers.